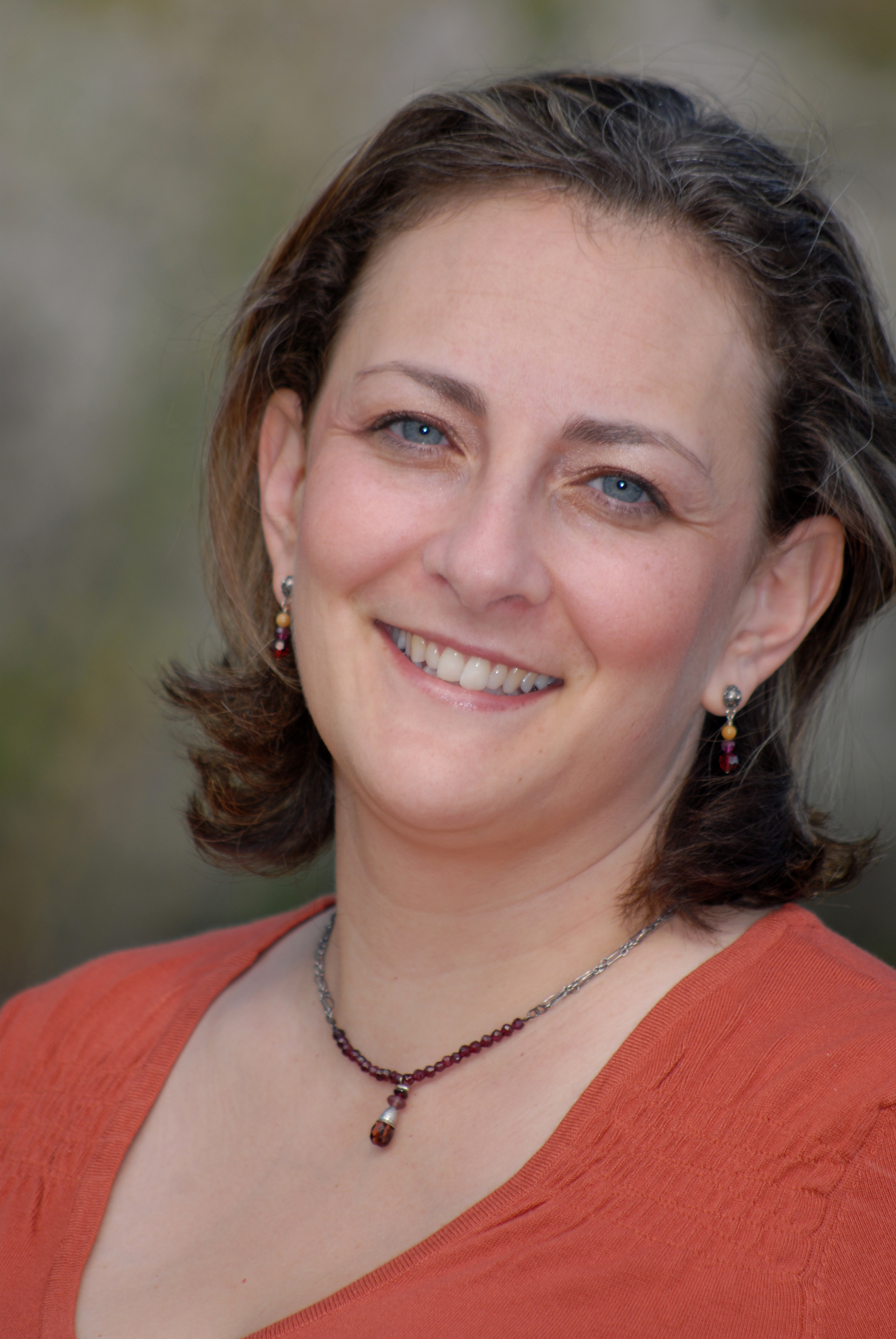 Jenny Meyerhoff, sans curls
As promised, here's my interview with Jenny Meyerhoff, author of
Third Grade Baby
...
How did you come up with the idea for Third Grade Baby?
Third Grade Baby started with a title, a different title. Once I thought of the title, I wrote a book to go with it -- it was a fanstasy about the tooth fairy. Once I changed the fantasy elements and made Polly Peterson, a very real third grade girl, the main focus, I changed the title. Not much of the first version remains. Except for the scene where Polly tries to eat steak and corn on the cob for dinner with her loose tooth. That used to be the first chapter, and now it's chapter 3, I think.
I love that scene and can totally feel Polly's pain! 
What challenges did you face in writing and revising the manuscript, and how did you conquer those challenges?
Since this was the first book I'd ever written, I'd say the biggest challenge was just trusting myself that I could do it. I worked around this problem by telling myself that I wasn't writing for publication, just for practice. Just to learn how to write a novel. That made it much easier to let go. After all, if I failed, the stakes weren't that high.
Fancy little mind trick there!

What role did your critique group play in the process?

Oh, I have no doubt that I never would have finished the book if I hadn't had the encouragement, support and discipline of being in a critique group. They taught me (and still teach me) so much about writing, structure, suspense, characterization. They really helped me see why the first version of my story wasn't working (too many logic problems,) and I think it was you, Brenda, who planted the seed of making the whole book into a realistic story.

Wow! I didn't realize that. But I'm happy to take credit for it. ;-)


Polly Peterson is a character who does not want to be seen as a baby, even though she is the smallest kid in her grade and still hasn't lost any baby teeth. How does this theme relate to your own life?
Well, I really did know such a third grader. It was very hard for her to be the only one with all her baby teeth. She wound up getting some teeth pulled. But on a personal level, it seems I am often writing about characters who need to prove, mostly to themselves, that they are "bigger" than they feel they are. I definitely struggle with insecurity, so I guess this is one of the ways I work through it.
Hmmm... I wonder if all this writing success will help with that insecurity. Check out the line at Jenny's first book signing!
Tell us a bit about your road to publication.

It's often said that you have to know someone to get published. And in my case it turned out to be extremely helpful. I knew the right editor to send my manuscript to because I knew through one of her writers, you, that her favorite thing to edit was chapter books. HOWEVER, I don't think this means hopeful writers should throw up their hands and walk away from the field just because they think they don't know someone. Join SCBWI, go to conferences and classes…make those connections. You and I met before you were published, and even if you hadn't found an editor who also turned out to be a great match for me, the things I've gained from our connection are still too many to count!

So true. Connections help. Knowing the business helps. Luck and timing and patience all help. But the most important thing is a fabulous manuscript. Nothing can happen without that. And I'm happy to say THIRD GRADE BABY is fabulous. I just read it again. The funny parts were still funny. And the heartwarming parts still made me tear up. Good job, Jenny!
What can fans expect next from you?
My YA novel, THE IMPOSSIBLE SECRETS OF ESSIE GREEN, is due out from FSG in the spring of 2010. In fact, I'm supposed to be revising it right now. I'd better get back to work!